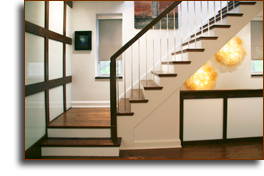 New Construction
Brayview Construction is qualified to build your new home from the ground up, or put an addition on your existing that is solid, long-lasting, and properly integrated into your home's look and feel. We work with the finest, most respected architects and designers in Chicagoland to make the house you've always dreamed of come true.
Expanding Your Living Space
Adding on to your current home is an excellent middle option between starting from scratch and removing or rebuilding what's already in place.
Brayview Construction can expand your kitchen, enlarge your family rooms, or increase the size or number of bathrooms.
We can add square footage to the sides of your house (with extra rooms or a garage) or raise the height of your house (by adding a 2nd story).
Lastly, Brayview Construction specializes in converting 2- and 3-flat buildings back to their original single-family intention. >> Back to the top
Revitalizing Existing Structures
Remodeling gives your space a whole new look and feel while retaining the original integrity of the overall structure, finding common ground between the personality you'd like to add and the impression you'd like to change.

Renovating

Renovations bring your dwelling back to life, whether in a single room, a section, or across the entire structure.
A rehab might entail gutting the existing home and could require installing all new materials, whether due to changing styles or simply to update the "way things used to be done":

Electrical wiring
Plumbing and pipes
Heating system overhaul
Carpentry and finishing
Stone and tile installation
Hardwood floors
Custom cabinets
Mantels and bookcases
Porches
Exterior siding
Gutters, soffit, fascia
Kitchen and Bath
A well conceived and maintained house will grow in value—it's an investment in yourself and your quality of life, and nothing contributes more to the value of your home or your quality of life than a revitalized and reimagined kitchen and bath.
We replace cabinets and drawers with attention to sturdiness, solidity, smooth operation, and visual appeal.

We install countertops that are functional, resilient, easy to maintain, and a pleasure to use and look at.

Your faucets, handles, sinks, and appliances will provide the accents that demonstrate your eye for style and detail.

We install faucets and fixtures that offer a combination of luxury and functionality.

From the shower head to the tub and tile, the shower will be a place to relax and rejuvenate.

Whether on walls, in the shower, or on the floor, tile will supply your bath with character and distinct charm.

Well-placed and positioned lighting will make your bath bright and subdued in proper and appropriate balance. >> Back to the top
Handyman Services
No job is too small for Brayview Construction. We apply the same level of care and professionalism, problem-solving ability, and attention to detail whether the job is scheduled to be completed in several months or a few hours. We believe in doing a job right. If you need to hang a mirror, repair a leak in the kitchen faucet, paint a room,or complete any other small project around the house, just call us. >> Back to the top